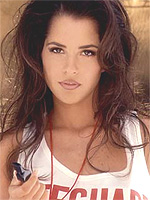 Kelly Monaco
Kelly Monaco doesn't need breast implants to be sexy, she's a very natural looking brunette model with brown eyes and a beautiful smile on her soft lips. She grew up in Philadelphia, Pennsylvania, USA and was an active athlet in her youth. Kelly Monaco appeared in lots of Playboy videos and was Miss September in the Playboy Video Playmate Calendar 1998.
Birthdate: 23 May, 1975
Ethnicity: White Hair color: Brunette Eye color: Brown

Visit
Playboy.com

Kelly Monaco Photo & Movie Galleries
No galleries are yet available for this model. Please check back later or browse some of the other models listed below.


Would you like to link to this page? Use this url:
or share it: