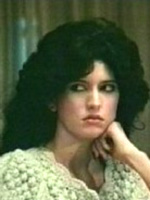 Raven
Aliases: Vicky Vickers, Niki Dickers, Raven St. James, Vicki Vickers, Nellie Marie Vickers, Nelly Vickers
The babe we want to present to you on this page is known as Raven and she is an american pornographic actress. Raven is mostly known for the Taboo American Style series of pornographic films. She appeared in her first adult movie in 1984 which had the title "Raven" and the last movie she appeared on was in 2002 and has the title "Naked Fairy Tales".
Birthdate:
Ethnicity: White Hair color: Raven Eye color: Brown

Visit
Pornstar Classics
Read a
review of Pornstar Classics

Raven Photo & Movie Galleries
No galleries are yet available for this model. Please check back later or browse some of the other models listed below.


Would you like to link to this page? Use this url:
or share it: