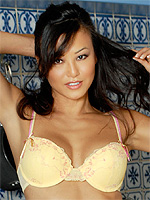 Sung Hi Lee
Besides in Playboy the asian model Sung Hi Lee appeared in numerous other magazines and she also did some commercial ads. She moved to the USA in 1978 where she attended the Ohio State University. So here we have an asian model who isn't just pretty, Sung Hi Lee is also very intelligent!
Birthdate: April 1, 1970
Ethnicity: Asian Hair color: Raven Eye color: Brown

Visit
Playboy
Also see
Sung Hi Lee
at
Sung-Hi.com

Sung Hi Lee Photo & Movie Galleries
No galleries are yet available for this model. Please check back later or browse some of the other models listed below.


Would you like to link to this page? Use this url:
or share it: